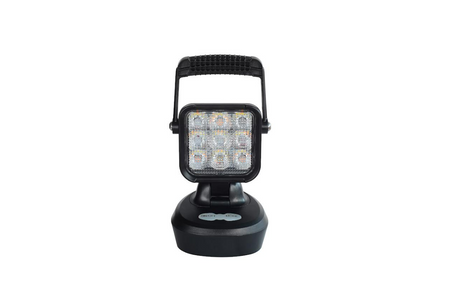 SOS Utility Lamp 18LED Rechargeable White/Amber Cig Plug
This product is currently unavailable.
Product Description
This high power LED flood lamp is perfect for off-road vehicles but can work for other uses that require high visibility. It has an IP67 rating, meaning it is protected from total dust ingress and is protected from immersion in water between 15cm and 1m in depth.
Portable, rechargeable magnetic work lamp.
Specifications
Voltage: 10-30v
Lumens: 648
LEDs: 9 White LEDs/ 9 Amber LEDs
Mounting: Magnetic
Additional: SOS Utility Lamp, 18 LED Rechargeable White/Amber,
Cigarette Plug - 3 Modes, Handle, Mag Base, Rechargeable Battery
Polycarbonate
IP Rating: IP65
Dimensions: 103 x 105 x 201mm
This 10-30v Square Work Flood Lamp comes with a 2-year warranty.
3 Modes:
100% Intensity White
50% Intensity White
SOS Flash - Amber or White
What are our customers saying?