---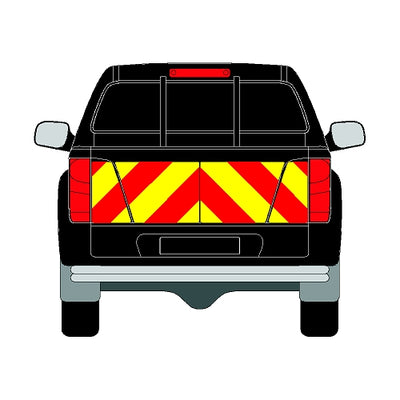 From £87.32
Shop Now
From £87.32
Shop Now
From £87.32
Shop Now
---
Are you looking for high-quality Chevron Kits for your Isuzu vehicle? Look no further than Chapter 8! We take pride in offering a wide range of high-quality Chevron Kits specifically designed for Isuzu models, including the popular D-Max. With our exceptional products, you can enhance the visibility and safety of your Isuzu vehicle in various working environments.

Our Chevron Kits come in three vinyl grades each accompanied by a 2-year warranty for your peace of mind. Choose from our selection of engineering grade, microprismatic grade, and plus grade. Each grade is highly retroreflective, ensuring optimal visibility on the road. Whether you're involved in highway maintenance, emergency services, or any other industry, our Chevron Kits are tailored to meet your needs.

At Chapter 8, we prioritise safety and compliance. That's why all our Isuzu Chevron Kits fully adhere to the road visibility requirements outlined in Chapter 8 of the Traffic Signs Manual, which is published by the esteemed Government's Department of Transport. You can have complete confidence that our Chevron Kits meet the highest regulatory standards, providing you with peace of mind on the road.

We understand that every Isuzu model is unique, and we strive to accommodate your specific requirements. If you can't find your vehicle listed in our collection or if you have special requests, please don't hesitate to contact us. Our dedicated team is always ready to assist you and provide guidance. You can also explore our custom size chevrons for a perfect fit.

Choose Chapter 8 for your Isuzu Chevron Kits and experience the exceptional quality and performance that our customers trust. Start enhancing the safety and visibility of your Isuzu vehicle today by browsing our selection. Don't compromise when it comes to safety – trust Chapter 8 to keep you visible on the road.