Compliant Rear Chevron Kits: MAN
---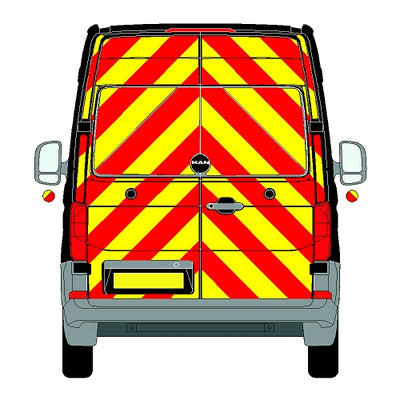 From £115.10
Shop Now
From £124.74
Shop Now
---
Chapter 8 shop is the ultimate destination for high-quality rear chevron kits! Whether you're looking to enhance the visibility and safety of your vehicle or ensure compliance with Chapter 8 regulations, we've got you covered.

Our extensive inventory boasts a diverse selection of rear reflective chevrons specifically designed for application on the rear of various vehicle makes and models. These rear vehicle chevrons are not only visually striking but also meet Chapter 8 compliance standards, ensuring optimal safety and visibility on the roads, especially during night time.

When it comes to grades, we offer three options to cater to different preferences and requirements. Our Entry Grade and Intermediate Grade rear vehicle chevrons come in convenient self-assembly kits, allowing for easy installation. For those seeking utmost convenience, our Premium Plus chevrons are pre-made and ready to be installed.

In addition to rear chevrons, we also provide side marking kits to guarantee complete Chapter 8 compliance for your vehicle. Our side marking kits are meticulously crafted to ensure maximum visibility and safety.

We understand the importance of front-end visibility as well, which is why we offer a range of bonnet chevrons. These chevrons are meticulously templated to fit your specific vehicle make and model, available in the correct format of fluorescent yellow and reflective white colours. Our fluorescent yellow vinyl offers a fantastic 4-year service life – much higher than the industry average. We can confidently say that Chapter 8 Shop is the only company to be selling a 4-year life product with our chevron kits.

Finding the perfect reflective rear chevrons for your vehicle is now a breeze with our user-friendly rear vehicle chevron finder tool. Simply utilise this tool to quickly and accurately identify the ideal rear chevron kit that suits your vehicle's specifications.

Upgrade your vehicle's safety and visibility today with our top-of-the-line rear vehicle chevron kits. Browse our inventory, explore our wide range of options, and take the first step towards a safer journey on the roads.

To find rear chevrons perfect for your vehicle, use our chevron finder.